Login
Log in if you have an account
Register
Having an account with us will allow you to check out faster in the future, store multiple addresses, view and track your orders in your account, and more.
Create an account
Meet Nika from Stonecloud
21 Aug 2021
Sincerely Valentine x Stonecloud
Stonecloud was born from the idea of bringing people into contact with each othes. Nowadays, the market is dominated by big brands and a lot of shopping is done digitally. If you look closely, there are also local boutiques, the baker or the greengrocer. Yet there are never many. Nika missed the stories behind a product. The purity, the craftsmanship and the personal touch of a product. She also longed for products of which you can see that they are made by people and not by machines. Her handmade ceramic tableware is really homemade, and you can see the craftsmanship she puts in her work. Not sleek, not smooth, not the same and that is exactly what she wants. Her dream is that local shops will once again take over from the big chains and that people will be brought back into contact with each other. In 2020 we experienced a lot of distance from one another. Nika believes that with local and handmade products, people will reconnect again.
The corona crisis gave her the itch to learn something new. She always enjoyed being creative, but the time Nika had left last year made her decide to focus entirely on making ceramic tableware. She made one cup after another and became more and more enthusiastic. The process of each product gives me enormous satisfaction. Every time it is addictive to see the fresh tableware coming out of the oven. It takes a lot of time, but no two items are the same and in their own way unique and that makes it all worth it!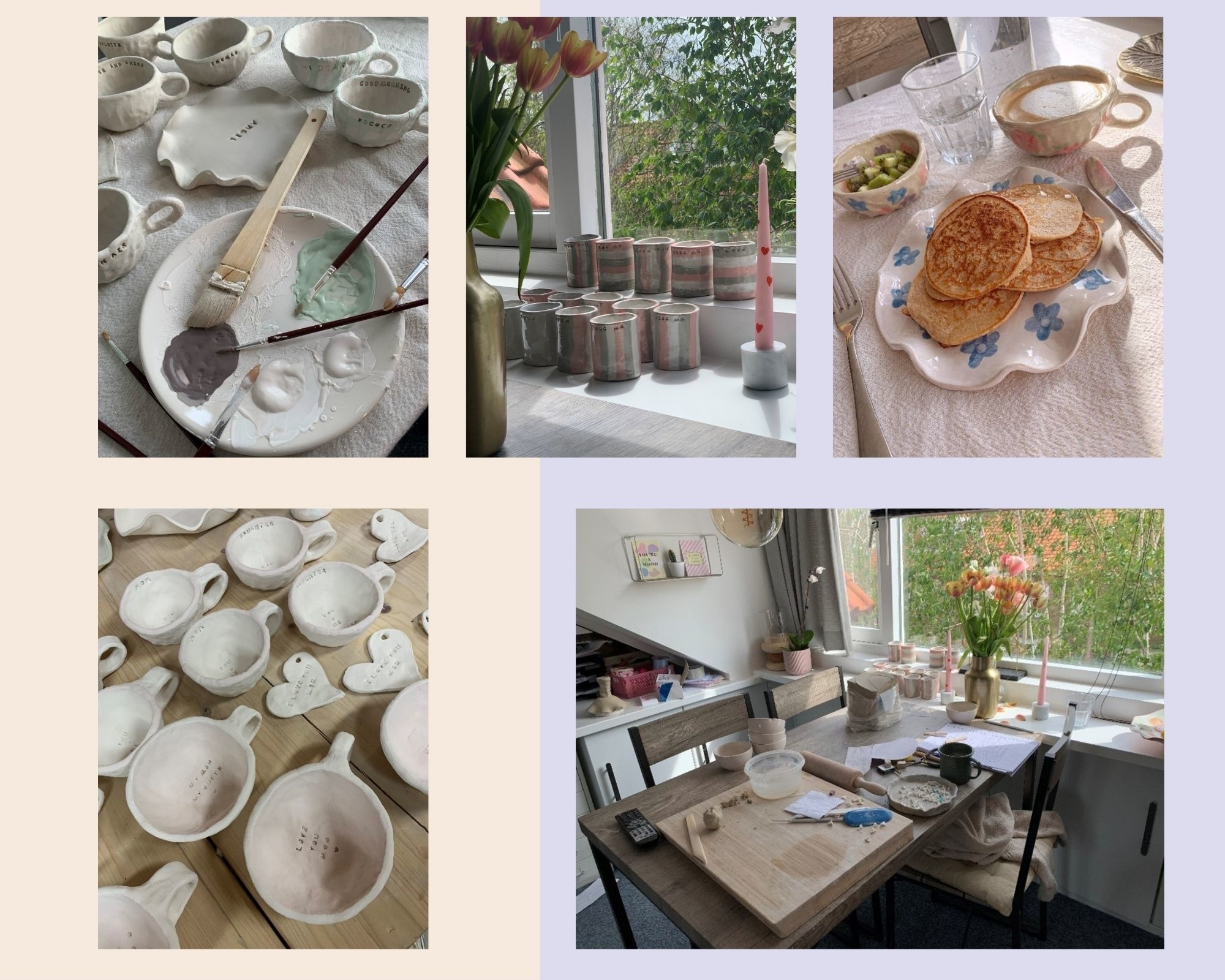 Nika's items are characterized by light colours and short texts. She's inspired by everything she sees around her and incorporates this into her products. She makes everything in her small but nice studio in Haarlem.She has a table, a chair and materials and that's how she works. Everywhere in Nika's studio, there are cups, plates or bowls. When she looks at an item, it brings her back to the process that preceded it. She always starts with clay, after which the pieces dry for at least a week. Then she can start glazing; this is the painting of the items. Next, she brings them to the ceramics kiln in the neighborhood and can collect them a few days later, completely finished. 
Leave a comment